A Breakthrough For "Hotlist" Eyes ONLY…
I Want YOU To Test-Drive
A "Weird" New $1,950 Driver
(…Like Having THREE
Mega-Distance Clubs
Hiding Inside Your Bag…)
For FREE If You Want!!
It's true! The FD-14 "Easy-Stik" Driver
is an absolute miracle of golf engineering!
The cutting-edge design allows you
the longest , most gorgeous shots of your LIFE…
…Off the tee…
…From the fairway…
…Even out of trouble!
Best Part: I am now allowing all "First Tier" Hotlist members
(like you) to try out this amazing "3-in-1" driver…
for NOTHING if you choose!
From: Doc O'Leary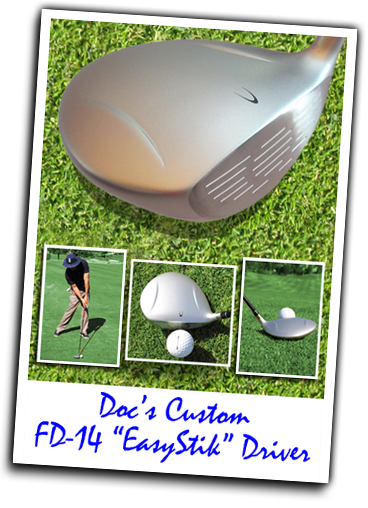 To: OHP "Hotlist" Member

Dear Fellow Golf Nut:
Big BIG news.
I've got a very expensive and "strange" new golf marvel that will have you weeping with sheer joy the very first time you play it.
Really! It's the FD-14 "Easy-Stik" -- a major breakthrough in driver technology that's about to make YOU one of the happiest golfers on the planet.
And just to PROVE that this astonishing "3-in-1" driver really does deliver serious distance from the tee… off the deck… or from anywhere on the course…
…I want you, and a few other "most favored" hotlist members….
To "Test Drive" This Amazing New Driver
For FREE If You Want.
Here's the story: If you're a true golf fanatic like me, you've probably secretly dreamed of having a magic club that could get you "driver distance", (I'm talking 250 to 300 yards kinda distance), not only off the tee, but from anywhere you need to cover a LOT of ground without a lot of fuss.
On Par 5s… long par 4s… facing 280 yards from thick rough or from under trees… or wherever you required a looong "miracle" shot to save par.
Sounds like an impossible fantasy, because even the pros rarely (if ever) use a driver from anywhere other than the tee-box.
Well, I've just changed all that.
Because after almost three years of blood, sweat and toil, the Easy-Stik is about to create golf history, and probably put my smiling mug on the cover of every big golf magazine out there.
Armed with this new secret weapon, you'll instantly dominate your golf pals in three critical areas:
Monster tee-shots.

Hit much longer and more accurate drives. Enjoy more distance off the tee while hitting a greater number of fairways in regulation and

eliminating silly mistakes

. That's exactly what this club will do for you.

Consistent, accurate, repeatable tee-shots with a dramatic reduction in the number of "duffed" drives.

Huge "follow-up" shots

.

Straight off the turf… just like you're teed up

! If you've never been able to hit a driver off the deck before, then this is your chance to shine. So simple too.

You'll get as much distance from your second shot as your tee-shot to bring any "long course" to its knees.

Soar out of trouble. Major bombs… from any lie. The unique "keel" cuts right through thick rough, matted pine straw, soggy muck and tall grass like a hot knife through butter. (It's no wonder why experts have already labeled this club a "Modern Marvel".)
It's perfectly legal by USGA standards, and yet it gives you an almost unfair advantage – even if you're currently struggling with your game.
In fact, the worse your game is, the more this will help.
Pull this from your bag with a cocky smirk and stun your pals with sizzling drives hit with authority and TOTAL CONFIDENCE. Consistent and repeatable too. Shots that land exactly where you want them to.
It's just so shocking how...
One little piece of technology
can change everything!
In fact…
You don't need to alter your normal swing at all… (Even better, this club will hit balls true and far even if you're current swing is HORRIBLE!)



You don't need to spend hours and hours practicing... A handful of balls from a small bucket and you'll see this club work its magic. (Just pull the cover off the club, address your ball, and swing. I guarantee your mind will be blown.)



And... you don't need to sacrifice a goat to the Golf Gods.

This ain't voodoo

… it's simply a…
Secret Revolution
in Club Technology!
The "Easy-Stik" may have started as a daydream, but whispering friends and family soon began calling it my "unhealthy obsession".
Who can blame me for wanting the best? So yes, I worked like a madman on plan after plan, not budging from my studio for months, surviving on beef jerky and water until the design was perfect. (Frankly, I'm shocked my poor wife put up with it.)
And when I had it exactly the way I wanted, I called in the big guns – "Brimley" (That's not his real name... but he insisted on it).
He's one of the most respected "freelance" club engineers in the business… a golf genius who's designed clubs for practically every big manufacturer.
His credentials are the best: A real Leonardo Da Vinci of golf. He's a blend of engineer, designer, experimenter, and golf artist in one man.
With 47 years' experience, Brimley holds 15 major golf patents and is known as the "grandfather" of the metal clubhead, (remember when clubheads were made exclusively from laminated Maple and Persimmon wood? Well you can thank Brimley for changing all that nonsense).
He's not a mass-producer, but rather an inventor and quality custom clubmaker for high-end clients interested in top performance.
He's personally designed mega-expensive clubs for big-wig politicians (including the Speaker Of The House)…
... the rich and famous (like Frank Sinatra, Willie Nelson, and Larry Gatlin)…
... and PGA touring pros (like Tom Weiskopf, Nancy Lopez, Jim Thorpe, Judy Rankin, Sandra Palmer, and Hubert Green).
Yeah, this guy really knows his stuff – and he engineered my final drawings into one of the finest clubs you will ever get your hot little hands on.
Here's just some of what makes the "Easy-Stik" Driver so very special:
It's wide. Players of all abilities love the expanded hitting area, because most amateurs screw up their drives by hitting either off the toe or the heel – rarely low or high on the face. The unique wide "bowed" horizontal face gives you plenty more area to work with – while actually hugging the ball and "dialing" it back into play -- even on lousy miss-hits.


It's sleek. The intermediate profile makes it EASY to nail long clean shots off both the tee and from tough lies just like a hotshot pro, (impossible to do with any typical "mailbox" driver) – while

never surrendering distance

. There's nothing quite like hitting a 270-yard tee-shot… then a 270-yard follow-up shot. Only one club can do this – and this is it!


The "Magic Keel" Soleplate: This is the "weird" part… my shining achievement and a major breakthrough in golf engineering. The unique "V" soleplate is like a boat hull -- the secret to cutting through turf and getting more mass and power on the ball even from sunken lies.

Pick monster distance shots clean off thin lies or deep divots.

Even balls struck "low" on the face fly straight and true, making it darn near impossible to mess up a shot.


Largest sweet-spot of just about any legal driver. Most drivers have a striking-area about the size of a dime. But the entire face of the Easy-Stik is one huge sweet spot. Even sounds different at impact. A crisper more distinct "thwack". It's the special heat-treated alloy. Makes it very forgiving and SIMPLE to hammer long and accurate -- even when hit off-center.


Aerodynamic shaping. Glides through the air just like an aircraft wing. This is a bigdeal considering that every 1 mph increase in your clubhead speed means an additional 5 yards of carry. (Bigger "deep-faced" drivers can actually slow down and "waffle" during the downstroke.) The special tapered "slip-stream" design ensures you're getting minimum drag and maximum explosive power every time you strike the ball.


One-piece forged crown. This was difficult. Expensive too. We made the crown like a high-tech tortoise shell. It's a single piece of alloy, tough as nails, (took 3 redesigns to get it just right), and feather-light to boot. That means fast and smooth action in the downstroke with 96.3% of the power transferring straight into the ball at impact.


Back-weighted. Provides a lower, deeper center of gravity for a piercing trajectory that leads to tons of carry and roll. Shots feel and sound rock solid, with the

ball launching at a perfect angle

-- without having to alter your swing one bit. It's the secret behind getting dozens of extra yards without any additional effort.


Reinforced clubface. The face is an extra-tight 431 pure ingot heat treated solid-grain structure spanning heel to toe. This means red-hot velocity and performance from every spot off the clubface. It's durable and a lot more stable than other drivers. Play this as hard as you want for the rest of your golfing days and then pass it down to future generations like a treasured family heirloom.


Platinum "matt" finish. Stands out like a new Ferrari next to a mini-van. The rich platinum color spells total refinement with

zero "glare-back

"

-- even in direct sunlight. Get ready to have your jealous pals notice this club the moment you pull it from your bag, (and then quiver in fear every time afterwards).


Elegant "classic" head. Stand over the ball with 100% certainty that you WILL nail the most satisfying solid shots in your golfing life – just by the "look" of this club. Simply holding the Easy-Stik in your hands

instills a kind of supreme confidence

. Compare that to the uncertain gnawing in your gut when staring down the shaft of an absurdly-deep "mailbox" driver.


Ready to use. The Easy-Stik has no screws to twist or weights to adjust, (like some "modern" drivers that force you to pull out tools and play "grease monkey" before teeing off). This club is preset for perfect performance. Just pull off the first-rate embroidered headcover (supplied), settle in, and immediately start hammering the sweetest shots of your life. Simple as that.

And so much more. Like the top "dual-trac" grooves, (similar to vortex generators used in aeronautics to decrease drag)…
… the brutal "cannon- testing" with over 2500 balls fired at 140 mph directly into the face of the prototype just to make sure this club will hold up and last forever, (almost no other driver could withstand this kind of punishment)…
… the 44-inch top-shelf filament-wound 100% high modulus 55-gram graphite shaft (with a firm flex and a mid to low kick point ), with 3.5 torque for less twisting of the clubhead at impact…
… and on and on.
This club is the cherry on top my life's work. My crowning achievement.
I don't know how I'll ever top it, and I could bend your ear about it for another two hours and still just be getting started. But I won't.
The only thing you really need to know is that this high-performance club will not only launch killer long shots off the tee – but also amazing long shots from the fairway, light or thick rough, out of trouble, from a divot -- wherever you need to cover serious "driver distance" without difficulty.
Wanna really shock and amaze your pals? Just plop down a ball on the tee box ... no tee... no adjusting.
Then use your regular old swing (in fact... even ease up a bit), and smack the longest most gorgeous drive they've ever seen... straight off the deck.
The Easy-Stik is designed to do it!
It's a total joy to swing. Imagine hitting a driver with the same confidence as your 8-iron. It's that good. So consistent and effortless it'll bring tears to your eyes. There has NEVER been a club like this.
Yes, it damn-near broke me financially -- and my wife and biz partners are barely speaking to me -- but who cares? The dream has finally come true.
Finally – after nearly 3 years of expensive engineering and testing, I've just received 200 of these FD-14 "Easy-Stik" Drivers into my warehouse, and best of all…
One of them has YOUR name on it!
Here's how you can get your hands on it right now.
Simply hit the "Add To Cart" button below.

How much? Well, with everything added up – I calculated that the final tally for this 3-year "pet project" of mine came in at a whopping $390,000.
For 200 clubs, that divides out to $1,950 per club.
Okay… sounds crazy, but considering that Brimley once designed a $5,000 driver for some asian king, and that one golf company actually sells a $6,000 set of irons and a $161,000 putter -- two grand for this beauty looks relatively paltry.
But keep your shirt on. I have no plans on charging you $2,000 for this driver.
…Not $1,000…
…Or even $500.
Nope. The purchase price for you and my First Tier "hotlist" golfers…
Is just $199.
I can't go any lower than that without the risk of being bludgeoned to death by my accountant and business partners.

I realize it probably sounds as if I'll go broke on this deal. But I assure you, I won't.
Because when word gets out, and golfers around the globe take to the streets demanding this club… when pros and celebrities appear on the golf channel referring to me as the "genius behind the amazing new Easy-Stik"…
… the "fat-cats" will come crawling out of the woodwork and offer me a small fortune in royalties and licensing fees.
I know exactly what I'm doing. My money comes later… in wheelbarrows.
But to get things rolling, I want you to "test" this out…
For FREE
If You Want.
Because you don't risk a PENNY of that insanely low purchase price.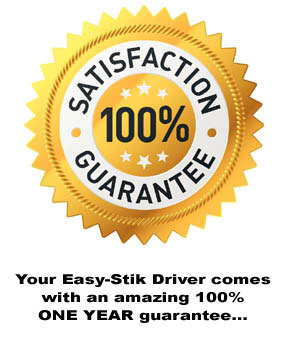 Correct. If you don't like the FD-14 "Easy-Stik" Driver for ANY reason… if you're not thrilled to be tearing up the course, snatching-up skins and breaking hearts… pounding consistent piercing shots off the tee and from the most impossible lies…
…if your golf pals don't start hating you and secretly plotting to steal your new secret weapon from you…
…then just return it and I will immediately refund every penny of your purchase price. No questions, no hassles. In fact, you've got ONE FULL YEAR to make up your mind about this. Return it in 12 months if you want. We've been in business for over 20 years, so we'll still be here.
Pretty sweet deal, huh?
Getting in on amazing risk-free offers like this – which NOBODY else gets -- is a major benefit of being a "hotlist" member. It gives you the option to keep this rare custom driver for a fraction of what it's worth… or simply test it out and send it back.
Your choice. I trust you completely.
I ask only three things from you. Here they are:
When you start humiliating and outplaying your golf buddies, please write me a nice letter bragging about your adventures. This will help me get the word out and prove my point.



Keep this deal to yourself. There are just 200 clubs and 8 of them have already been snapped up. So anyone who's not a "hotlist" member will be told "no" when ordering.



Order only 1 club. Again, with such a limited number I can't allow any single customer to hoard clubs, jack up the price, and sell them later at a fat profit. I know you wouldn't do that, but I gotta be careful.
You can also order by telephone if you want. My office number is:
1-888-665-6961
Ask for "Department EZS-300". Tell the operator you're interested in "Docs new FD-14 Easy-Stik Driver".
You can even order by mail. Simply send a check or money order for $213 (that's $199 plus $14 shipping and handling), payable to OHP Direct and send it to: OHP Direct, Dept. EZS-300, 606 E. Acequia Ave., Visalia, CA 93292.
Of course the fastest and easiest way to order is online right now.

No matter how you order, you should hurry. Obviously, with so few Easy-Stiks available, waiting even until tomorrow will almost certainly mean missing out entirely. Unless my business partners have a change of heart, (which I highly doubt), it's unlikely I will ever produce any more of these clubs again. Not part of the current game-plan.
I've got my Easy-Stik. My friends and pro buddies all have theirs. Now it's time you got YOURS too – at a killer deal and with zero risk.
It's that or wait around for a few years until some big-shot club-maker is forced to finally buy the rights from me, produce their own version, and then charge you double or triple what I'm asking… with NO guarantee.
There's no need to go through all that -- especially knowing that this single "Magic" club is going to turn you into a golfing wizard… instantly!
And get this... when I say "instantly", I mean right away. Not a second of practice is necessary.
But again, please act now.
Because if I don't hear from you within the next few days – 72 hours to be exact – I will assume you're not interested and pass your club to the next "hotlist" golfer in line.
Don't allow that to happen! You WILL kick yourself later if you mess up and miss out on this.
This is your ONE risk-free chance to own the club that's about to change the face of golf as we know it.
For Better Golf...

Doc O'Leary
Head Golf Nut, OHP

P.S. Oh… wait a second. There's an important freebie I forgot to mention. Order right away and you will also receive a FREE BONUS DVD package.
It's called "Easy-Stik Monster Shots". This DVD is hosted by a professional golfer and covers some of the advanced fundamentals of using your new Easy-Stik to blast longer more accurate shots from all over the course… including:
A nifty little demo on

hitting against the wind on long uphill slopes

… and still achieve serious distance, (gotta see this!)

An explanation (best I've ever heard) about how professional golfers manage to hit more fairways in regulation. Very enlightening stuff here.



How to bring par 5s and long par 4s to their knees. Your pro instructor actually plays 3 holes to walk you through it all.



A look at how to

use your

"Easy-Stik" out of the rough.

Even a pro wouldn't hit a driver out of the rough, but this new club makes it actually

simple

.

What you MUST know about teeing up the ball. The Easy-Stik is different than any other driver. It's easier to hit, which allows you to tee up much differently for more confidence, consistency and control.
And lots more. Demos with a live student showing how to hit out of a divot… from a downslope… quick drills for correcting a slice… how miss-hits fly straight and long… and so much more.
You don't have to watch this DVD to use the Easy-Stik, but it's always nice to be armed with some professional tips and tricks to help you along.
This DVD package is yours to keep, for FREE, even if you later decide to take advantage of my generous money back guarantee.

P.P.S. Another thing… just got a question from a "hotlist" guy like you. He asked why the big golf companies haven't even tried to create a club like this.
One word answer – "big fat profits".
Okay, that's three words… but you get the point. They'd much rather sell you three, four, even FIVE different clubs than something this simple.
Well, I've just blown the lid off the whole thing. You're on the ground floor of a new revolution in golf technology.
I understand that a lot of folks are skeptical about major breakthroughs. Heck, I once thought the internet was a passing fad.
But pros and amateurs who've tried this are going absolutely crazy with excitement… calling this the next "big thing" in golf.
Here's what some of them are saying:

"All my golf buddies say 'you've never been that accurate off the tee, you must be cheating'. Sorry boys, my new FD-14 driver is perfectly legal. The aerodynamic head works like a dream, I can feel more clubhead speed through the ball...and I love my new launch angle, my ball seems to carry farther."
-- Travis Dalton, software consultant- 9.7 handicap

"It's nice to feel where the club head is during my swing. The head weight was very comfortable and the shaft loaded and released smoothly. I hit it 265 yards uphill - all carry on the fly from the tee, that's the same distance if not better than my $1,000 driver. I was also able to hit it close to the same distance from the fairway and was able to work the ball out of bad lies in the rough too. I liked the way the ball exploded off the face, the sound and the feel gave me what I call "great crunchy feedback" a real fun club to hit."
Eric Engelbert, +2 handicap - 2012 US Mid AM Competitor

"Amazing club here! My regular golfing buddies are shocked at my new driving game. I'm bombing the ball longer and splitting the fairway time after time - hit 12 out of 14 fairways, birdied both par 5's - shot 81. Nothing else has changed with my game except this new club. It's turned my whole game around!"
Sean Thomas, 12 handicap - SGV

"When I first set up with this driver, it just looked right. That's important to me as a pro... that's big. If it looks right and feels good in my hands, I'll swing it with confidence. That's really big in this game. Hitting it TWICE on the par 5's was really cool, specially the kick-in birdies. I can see this club staying in my bag. Great job again Doc!"
-- Bill McKinney, PGA - *2011 SCPGA Metropolitan Chapter Teacher of the Year

"This club has me launching drives on a rope – and my buddies scratching their heads. My new found distance and accuracy off the tee is driving them absolutely nuts!"
K.S. Patricks, San Gabriel Valley

"It's so fun to hit! Doc has put together the most unbelievable club, I mean it's the EASIEST driver I've ever hit. It's so balanced and smooth on every swing! I love the sound of the ball off the face, the classic look and specially the feel. Thanks Doc!"
Dean Noble, intermediate player

"I was blown-away at how well this club played, it responded perfectly shot after shot. The whole face is one big sweet spot. I didn't miss-hit a shot all day! It's unbelievably accurate and just simple to hit."
-- Pat Long, golf instructor

"This club is the most balanced driver I've ever held in my hands. It almost swings itself, and is so consistent and accurate it's awesome. I've never played anything like it and being able to hit it off the deck still just blows my mind. Cool, cool club Doc, Thanks!"
James Thomas, Bay Area sales rep.

"I was lucky enough to get my hands on one of these special custom clubs. You will be completely amazed at how the ball jumps off this clubface (wider from heel-to-toe really helps)... it's like a launched rocket. I'm hitting all my drives straight, consistent, accurate tee shots - a BIG PLUS for me. Get ready for the longest and straightest drives of your life."
Patrick McKenna, Riverside

There's a lot more good vibes where those came from. Turns out golfers from all walks of life – especially golfers who need to kick their game in the pants – really, REALLY love this club.
Get yours while you still can.