Breaking Down The Golf Course
---
In order to play great golf you must be in tune to how golf courses are designed. Below I start with the very basics. If you've been playing a while skip this first section.
Golf Course Design
A regulation golf course usually has 18 holes. There is a front nine and a back nine. They almost always ad up to a par of 72 for the course.
These 18 holes usually break down into the following:
14 par 4 holes: Varying in length from 280 to 470  yards roughly speaking
2 par 3's: Which usually range anywhere between 100 and 200 yards in length.
2 par 5's: That range from 500 to 600 yards in length.
Golf Course Hazards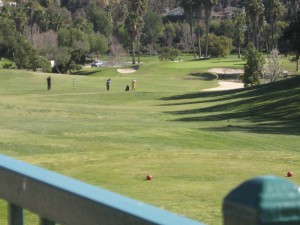 Each golf hole is designed to test golfers of all skill levels. Some holes have water hazards, some have out of bounds, some have bunkers or sand traps, and many have some combination of all of these.
Keeping these things in mind it will help you get the lowest score possible on each hole. You must learn to play away from trouble and choose enough club to clear certain obstacles while avoiding others beyond it.
Depending on your strategy and the design of the hole you may choose to "lay up" while playing a specific hole, instead of aiming right for the green, hitting a shorter shot to avoid the hazards.
Or you may decide to go for it, trying to clear a hazard (for example a water hazard right near the green). This decision isn't universal. It always depends on how well you're striking the ball and your general skill level.
To make the right decisions on the course it's a good idea to have a goal for what you want to accomplish on each hole. You're always needing to make decisions while playing a round of golf. It is often those decisions (not necessarily your golf shots) that can make or break a round of golf.
Divide and Conquer the Golf Course
If you're playing a 500 yard par 5 you may choose to break down the hole by hitting two 200 yard shots, and a third 100 yard pitch to the green. Or if you hit your driver 250 yards then a fairway wood 200 yards you'd be left with a 50 yard pitch to the green.
If you have a good short game the latter might be a wise choice for you. But in general full shots are usually better shots to try and pull off.
So while breaking down the course keep these things in mind. Playing a course more than one time will give you a better idea of how to play each hole to score your best.
The bottom line is that you need to make good decisions on the golf course, and play the game one shot at a time.
Remember to always have fun and enjoy your round of golf.