Golf Shoes
---
If you're the type of golfer who enjoys an early morning round of golf, you'll realize the importance of wearing golf shoes with soft-spikes. If you're walking you'll want your feet to stay dry and comfortable, and if the grass is wet in the morning you don't want to slip and lose your footing.
A good pair of golf shoes can make a big difference in your game. The sweet-spot on the golf club-face is already pretty difficult to find, now add your feet slipping and spinning out of the shot and it's pretty much impossible to play great golf.
Slipping around creates a lot of errant golf shots, adding unnecessary strokes to your round.
Take into consideration there are many different makes and models of golf shoes on the market and the prices will vary widely. Cheaper shoes down near $40 or $50 and more pricier shoes around $200 a pair.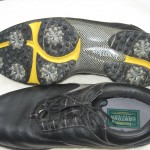 If you are more than the occasional golfer I would recommend shopping the the $100 range. This will probably get you a decent pair than will last a while. If money is no object, go for a more expensive pair.
Regardless of your price range the biggest thing to keep in mind is comfort. Your going to be wearing those babies for at least a couple hours and if you like to walk the course you'll be putting some serious miles on them. Blisters don't help your golf game so make sure you get a pair of golf shoes that will work for you.
A good golf swing is said to start from the ground up, so a good pair of golf shoes is key. Without a firm footing you won't be able to get the right weight shift and pivot into your swing. A poor footing will rob some serious distance from your swing and cause all sorts of miss-hits.
Do yourself a favor and get a decent pair of golf shoes.