Golf Grips
---
For many years now golf grips have been made of rubber and simply slide on over the butt end of the shaft. Prior to the slip on grip, golf grips were made by wrapping the handle with leather. You can still find leather wrap grips but they are harder and harder to come by.
Types of Golf Grips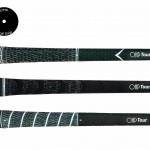 Currently there are three main types of golf grip materials: cord, rubber and synthetic blends. All these grips offer some degree of tackiness to prevent slipping during your swing.
Cord style grips have string embedded into the rubber material. The string or cord shows through the surface of the grip just enough to add a bit more grip. Having Cord style golf grips on your clubs can be helpful if you have sweaty hands or frequently play in damp or rainy conditions, but this type of grip can be rough on your hands.
The most important thing to consider when choosing your golf grips should be: is it comfortable and does it offer that non-slip feel so you can swing confidently. Since your hands are the only part of your body that comes in contact with the golf club a good feeling grip is key.
A style of grip called a tour velvet is very popular among most players, it has designs and patterns that improves the playability and durability of the grip.
When to Re-grip Your Golf Clubs
One of the biggest and least expensive equipment changes you should consider is re-gripping your clubs every 6 months or so, especially if you play often. Don't let your grips get hard or they will become slippery and have a major negative effect on your swing.
There are a few different sizes of golf grips your might consider depending on your hand size and whether you suffer from arthritis. Grips now come in a bunch of different color too.
Always remember a grip should feel comfortable in your hands.